Cathedral Welcomes Commissioning of New Lay Ministers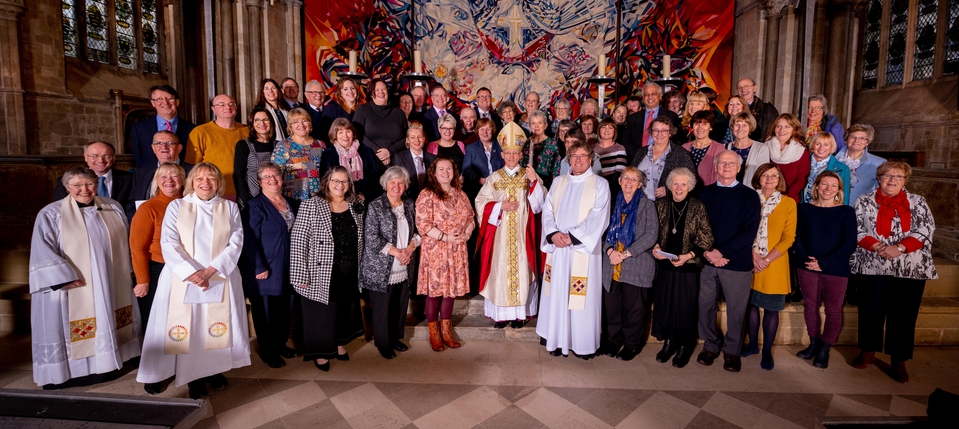 Fifty eight people from across Sussex were commissioned as lay ministers, by the Bishop of Chichester Dr Martin Warner, at a special service in Chichester Cathedral on Saturday 11 January, the second year the event has been held.
The individuals, from Anglican churches in the Diocese of Chichester, will now form the largest group ever to be recognised for the completion of their studies - the culmination of skills-based training for Authorised Lay Ministry (ALM).
Authorised Lay Ministers share in the public ministry of the local church, as they serve their local parishes.
The Revd Jayne Prestwood, Officer for Lay Vocation and Ministry, runs the lay ministry training programme. She said: "It is wonderful to mark the start of the Year by commissioning the Authorised Lay Ministers. This is our biggest group to date. Last year was our Year of Vocation and I am sure that this has had a big influence on the increase of numbers for this cohort.
"Authorised Lay Ministry is now recognised across the Church of England as a vibrant and growing expression of lay ministry. I am delighted that we will be expanding our ALM training programme further to provide flexible and affordable skills-based training in a variety of different ministries."
You can read the Bishop of Chichester's sermon here
You can find out more about training for Authorised Lay Ministry from the Diocese of Chichester website here: https://www.chichester.anglican.org/Authorised-Lay...
We offer our prayers for all those commissioned and the parishes in which they serve. Those commissioned were:
ALM Candidates January 2020
Community Elective
Patricia Bailey - St Mary's Church, Newick
Maria Brett - St Augustine's Scaynes Hill
Jill Costello – The Ascension Haywards Heath
Pam Edwards – The Ascension Haywards Heath
Diana Green - Clymping, Yapton & Ford Benefice
Karen Kelso -St Margaret's Church, Ifield
Sarah-Frances Magrath - Gossops Green & Bewbush
Helen Morris - Singleton, West Dean, East Dean
Ruth Parnell - Chanctonbury Churches,
Gillian Reville - All Saints Hellingly, Herstmonceux
Glen Russell - Christ Church, Ore, Hastings
Family elective
Louise Clark - St Peter's Church Henfield
Caroline Formby - St Barnabas, Worth Parish
Jane Hart -Christ Church & St Mary Magdalen, and St Peter & St Paul – St Leonard's
Ruth Hine - St Ethelburga, St Leonards on Sea
Philip Morris - St John's Crowborough
Helen Swift - Holy Trinity Church,Cuckfield
Susan Weston - Kirdford with Plaistow
Pastoral Elective
Irene Adams - Findon, Clapham and Patching
Hilary Cannings - St Nicholas East and West Saltdean
Morag Davies - St Mary's Parish Church, Horsham
Margaret Elkin - St Peter & St Paul Chichester
Kelly Ellis - The Cuckmere Benefice
Alison Evans - St Mary's, Goring by Sea
Jacqueline Harwood - St James the Less Lancing
Kathryn James - St Peter's Ardingly
Susan Laker - St Peter's Ardingly
Judy Short -Church of the Good Shepherd, Shoreham
Preaching elective
Sarah Adams - St John the Evangelist, Southbourne
Sue Adams - St Matthias, Preston, Brighton
Jane Bellinger - All Saints Colgate & Roffey
Sandra Bentall - Old Town Parish St Clement & All Saints
Natalie Broomfield-Hill - Old Town Parish, Hastings
Jonathan Berry - Holy Trinity Cuckfield
Susan Crossfield - St John the Evangelist, Preston, Brighton
Simon Eyre - St Elizabeth's Eastbourne
Martin Fair - St John the Evangelist, Southbourne
Alan Freeman - St Matthews, St Leonard's on sea
Colin Frampton – Chanctonbury churches
Harry Goring -Chanctonbury Churches
Malcolm Harris - St Matthew, St Leonards-on-Sea
Charles Jardine - All Saints Herstmonceux
Clare Lyttle - St Ethleburga's Church, St Leonards
John Lyttle - St Ethleburga's Church St Leonards
Mandy Mulford - St Elisabeth's, Eastbourne
Judith Murray- St. Nicholas of Myra, Brighton and High Hurstwood
Philippa Pearson-Miles-Chanctonbury Churches
Brenda Pegman -St Ethleburga's Church, St Leonards
Tracey Perkins - St Ethelburga's Church, St Leonards
Mark Ralf - West Wittering and Birdham with Itchenor
Graham Reid - United Benefice of St Mary's Slaugham and St Mark's Staplefield
John Shepherd - Heathfield Benefice
Stephen Simmons - St Wilfrid's Eastbourne
Holly Stevenson - St Barnabas, Bexhill-on-Sea
Glenn Turner - All Saints Colgate & Roffey
David Whitehead- Thakeham with Wakinghurst
Lesley Worsley - St Ethelburga's Church, St Leonards