---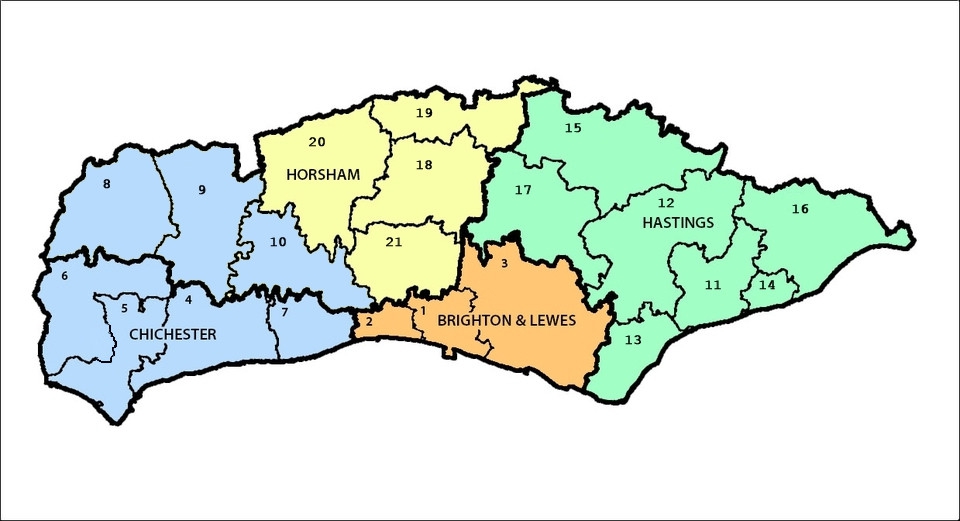 The Archdeacon of Chichester is responsible for the coastal region of West Sussex; the Archdeacon of Horsham for the rest of that county; The Archdeacon of Brighton and Lewes is responsible for Brighton, Hove and Lewes & Seaford deaneries and the Archdeacon of Hastings for the remaining deaneries in East Sussex.
Today the diocese comprises 478 churches in 361 parishes which are served by 393 clergy and employed Lay Workers and 229 Readers. The parishes are grouped into 275 benefices (with one clergyman or woman in overall charge).
The benefices are grouped into 21 rural deaneries. The word "deanery" comes originally for the Latin for ten: deaneries originally comprised about ten parishes. Nowadays they are geographically-based, and may contain twice that number, or (for very rural areas) fewer. In this Diocese the deaneries have ancient names, after some of the oldest parishes. Churches were established in various parts of the diocese between the seventh century (Chichester) and the thirteenth (Dallington, Eastbourne).
As Chichester is still a predominantly rural diocese, we still use the term "rural" deaneries, rather than the more prosaic Area Deaneries which the Dioceses of Liverpool or London have, for example. Each rural deanery is in turn part of an archdeaconry, an area for which an archdeacon is responsible. The archdeacons are senior priests who assist the bishops and have important legal and practical responsibilities for the parishes in their care.
---
Deanery Boundaries
Click or tap here to see the diocese on a Google map
If you're familiar with this type of mapping tool, then you will have no difficulty panning and zooming to get the picture you need. If you're less familiar with Google maps, then the following may help to get you started:
Use the checkboxes on the left of the screen to select or un-select the information that you want to see
Use your mouse, finger (or other pointing device) to drag the map around the screen
Use the + and - buttons to zoom in and out
---
Brighton & Lewes Archdeaconry
Brighton (1)
Hove (2)
Lewes and Seaford (3)
Chichester Archdeaconry
Arundel and Bognor (4)
Chichester (5)
Westbourne (6)
Worthing (7)
Midhurst (8)
Petworth (9)
Storrington (10)
Hastings Archdeaconry
Battle and Bexhill (11)
Dallington (12)
Eastbourne (13)
Hastings (14)
Rotherfield (15)
Rye (16)
Uckfield (17)
Horsham Archdeaconry
Cuckfield (18)
East Grinstead (19)
Horsham (20)
Hurst (21)
Other