---

Upcoming Pilgrimages

---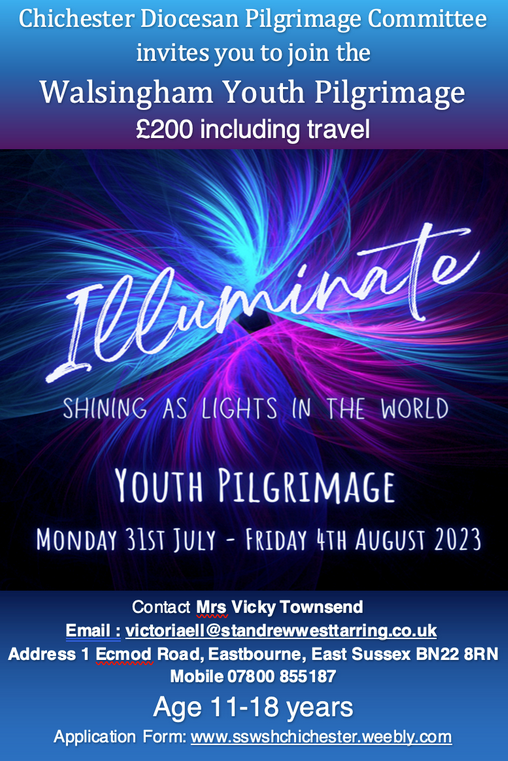 Walsingham Children's Pilgrimage March 2023

Friday 3 March - Sunday 5th March

Mrs Mary Nagel & Fr Mark Gilbert will lead a team of Adult leaders (groups may bring their own leader)
Children aged 7-11 (Year 6) Cost £120 for transport, accommodation and all meals. (Cost for Adult leaders £150)
Fun Work Shops drama, music, art & craft Great Worship with young people from all over Britain.
Disco Party & Outdoor Games and lots to discover and explore in Walsingham.
Watch the video here:
Children's Pilgrimage.mp4 from Shrine of Our Lady of Walsingham on Vimeo.
We will ask permission for you to be excused from school on the 3rd March as it is an educational trip, but this is at the discretion of the Headteacher. Booking Forms can be found at.www.sswshchichester.weebly.com
Or download the PDF Booking Form here.
• The Children will be in safe secure accommodation in the shrine.
• We shall go up by minibus subsidised by the pilgrimage committee.
• Adults will have been DBS checked both Male and Female leaders.
• St Johns' Ambulance are present at the Shrine
• Places are limited so please register as soon as possible.
Please send this form and £20 deposit (cheque: Chichester Diocesan Pilgrimage Committee or Bacs Sort 20-12-80 Account number 80418978 (Tick) by 15th December places filled by those responding first. (deadline 19th January 2023) to Mrs Mary Nagel, 22 Bishopsgate Walk ,Chichester West Sussex, PO19 6FG tel. 01243 537831 marynagel54@gmail.com
Related Links: