---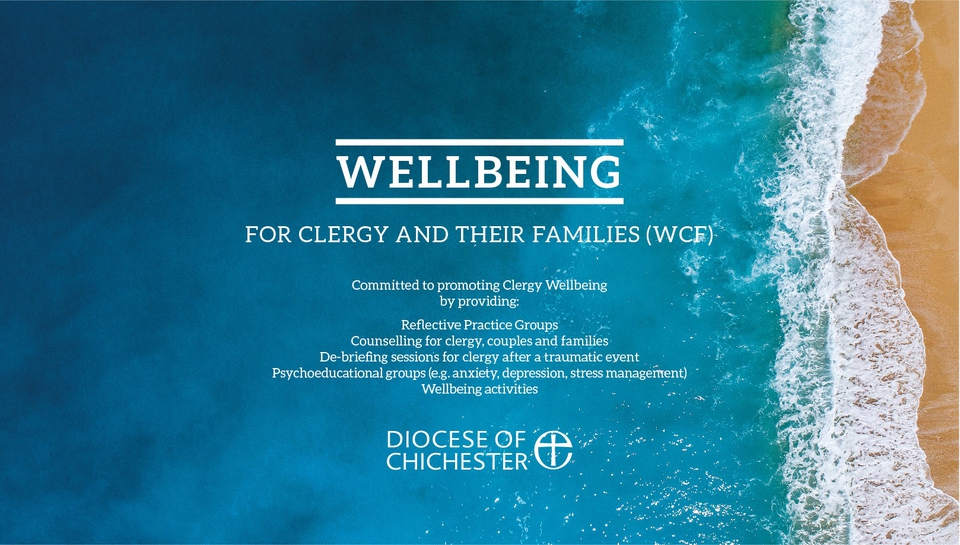 WCF Service Counselling Testimony
"I found that my sessions in CBT (Cognitive Behavioural Therapy) were very useful in shining a light on unexamined and unhelpful patterns in my thinking (and consequently behaviour and emotions) , and then providing a practical way forward in changing them. To begin with, it was helpful to realise that problems with anxiety, depression, certain areas of belief, relationships and other aspects of ministry life, were influenced and made more difficult by patterns of thinking resulting from unexamined experiences in my past than I realised.
It was then encouraging to understand that there are ways forward in changing this. The bible encourages us to train our minds to think well (Philippians 4:8,9) and I found that CBT helped me to see what stops me from doing this, and then provides practical ways of beginning to change. I would recommend that all clergy don't wait until moments of real stress and crisis before they look into the counselling services the diocese offers, but rather to approach those times well prepared by taking advantage of the provision offered now."
The Revd David Garratt
Chaplain at St Catherine's College
---
This page is particularly dedicated to wellbeing for clergy and their families. For information more generally on mental health and wellbeing please visit this page.
---
The Diocese of Chichester is committed to promoting and sustaining the Wellbeing of our clergy and their families. Laura Steven, Head of Wellbeing for Clergy and their Families (WCF), is employed by the DOC to provide the WCF services for clergy and their families.
We provide:
De-briefing sessions for clergy after a traumatic event(s)
Psychoeducational groups eg anxiety and depression, stress management and wellbeing activities eg. Christian mindfulness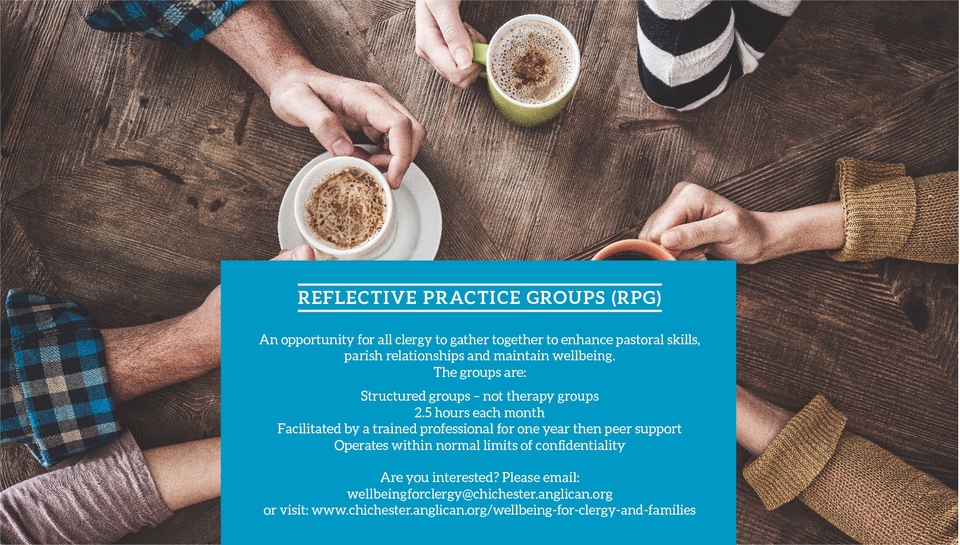 What happens in an Reflective Practice Group (RPG)?

Joining a new group can feel daunting, as members may come with very varied expectations, backgrounds and experiences, so the facilitator helps the group to get established. First, a group contract and confidentiality agreement are established. Then, each meeting provides the opportunity for members to 'check in' and share any news or issues they would like to raise, before individual members are invited to talk about whatever aspect of their ministry they wish.
What is an RPG for?
Issues people tend to talk about are practical parish problems; celebrating successful practice; managing challenging situations or individuals; and sharing ideas about diocesan initiatives; as well as how to maintain personal resilience and wellbeing. Other members may then contribute their own thoughts and experiences and reflect on the relevance to their own situations.
How long does an RPG last?
RPG's meet for 2 hours monthly in non- church premises at the same time for 18 months together (we don't meet in December and August) with a trained facilitator who works independently.
---
Confidentiality and Evaluation
To support effective administration and evaluation, the names and attendance of group members will be recorded on a confidential database and participants will be asked to complete a standardised assessment form at the start, mid-point and end of their RPG membership.This will help them consider what they hope to gain from and contribute to the group; monitor how this might change over time; and review their experience overall.
This RPG-related data will be accessed only by Laura Steven, Head of Wellbeing for Clergy and their families, and the relevant group facilitator.It will be deleted subsequently, in accordance with GDPR requirements.
---
Feedback from previous DOC RPG members:
'I am so grateful for this group and do hope that it can be made available to others, and that they will take up the offer! Thank you so much for making it happen - and to those who have allocated funding for it!'
'Our facilitator is an excellent co-ordinator – very impressed with her! This is a very new experience for clergy although (in my humble opinion) essential… certainly worth continuing with.'
'I've found the Group very positive, it is a valuable thing to offer clergy, thank you.'
'Time set aside, excellent facilitation, sharing good practice and different ways of approaching ministry, sharing in depth, being listened to and really valued and doing the same for others, building mutual respect, journeying together.'
'Boundary setting, looking at anger, developing readiness to think before taking on extra commitments, opportunity to reflect on a very difficult period in ministry, developing better sense of self care and work- life balance.'
'Meeting other clergy in the diocese, sharing practice especially around taking funerals, space unload, complete confidentiality, addressing deepest fears, failures and frustrations, sharing challenges and finding new strengths and resolve.'
---
Other Support for Clergy Wellbeing
An RPG is not the same as a therapeutic group (though members do experience it as therapeutic to have a place to share local challenges!)
If you feel, before or after joining an RPG, that you and/or a close family member would benefit from one-to-one counselling regarding personal issues, please complete a referral from link You can still participate in an RPG, if you wish.
For further information, or if you have any queries, please email: wellbeingforclergy@chichester.anglican.org
---
Counselling/Psychotherapy – we offer short term individual, couple and family therapy (6-12 sessions) within the Diocese of Chichester. Once you have completed a referral form please email: wellbeingforclergy@chichester.anglican.org and you will be invited to meet with a therapist to discuss your concerns.
The WCF use a therapist directly employed by the DOC (Laura Steven) and a bank of fully qualified and registered therapists to deliver individual, couple and family therapy. All therapists are monitored and supported by the WCF service, hold professional liability insurance, a standard DBS certificate, are registered with a professional body related to their therapeutic modality and fully comply with GDPR legislation (Diocese of Chichester ICO registration numberZ6601913v) and the DOC confidentiality policy.
Please note that the WCF is not able to provide a service to people who are at risk of immediate of harm.
---
In an emergency:
If you are concerned about an immediate risk of harm - either to yourself or someone else - then phone 999.
Go to your nearest hospital with an Accident and Emergency (A&E) Department. In some hospitals, this will be called the Emergency Department. There are staff on duty 24 hours a day, seven days a week, who will be able to assess you and give you the appropriate help.
Samaritans – Telephone 116123
Provides help and support to people in a crisis 24 hours a day, seven days a week.
The Stay Alive app is a pocket suicide prevention resource, full of information which we hope will help you stay safe. You might find it useful if you are having thoughts of suicide or if you are concerned about someone else who may be considering suicide. The app includes a safety plan, customisable reasons for living and a life box where you can store photos that are important to you. You can download it for free on Android and iOS. It has been produced with Grassroots Suicide Prevention, a charity that supports communities to prevent suicide.
---
Debriefing Sessions
Whilst clinical evidence indicates that structured de-briefing following a trauma can be harmful, we recognise that clergy members can sometimes find themselves in the position where they are not able to share events with their normal network due to confidentiality boundaries. We are therefore able to offer members of clergy the opportunity to share and 'offload' when something traumatic has happened in their parish.
---
Locations
To provide a responsive and inclusive service, we have locations in mid, east and west of the Diocese where we can meet with you and we use non-church premises to help protect your confidentiality.
---
Psychoeducational Groups
Short- 6-8-week groups which may be held in church premises on a rolling basis throughout the year e.g.:
Anxiety and Depression
Stress Management
Parenting courses
Wellbeing activities
---