---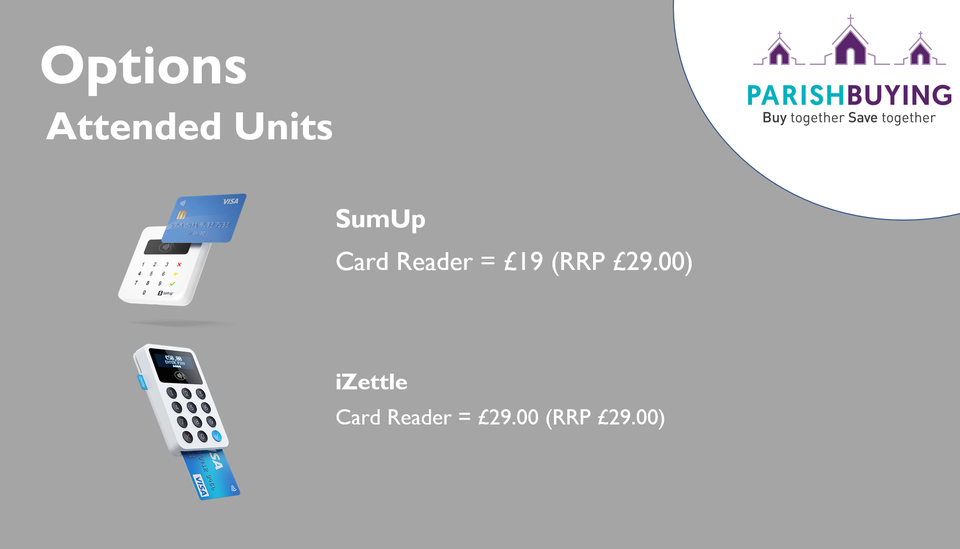 Contactless devices are familiar to anyone who shops for goods in our towns and villages. A small device is provided to the shopper as a means of using a debit card to tap the device and pay for items with a value of up to £30. Now, our churches can use similar devices to enable digital giving.
Inexpensive contactless devices
Parish Buying have arranged contracts with suppliers to provide our churches with terminals ranging from simple hand-held devices that connect to a mobile phone, to larger hand-held or unattended devices that store the details of transactions.
All hand-held terminals are set up to collect the offering by inserting or tapping one's debit card or by using a smartphone. The same devices can be used to pay for one-off transactions such as wedding fees, or hire of the church hall.
The number of devices available is increasing with time. Parish Buying regularly updates its website with details of the availability of devices and contracts they have arranged.
Greater generosity
Research has shown, additionally, that donors are more generous when using contactless devices. For the price of under £100, the contactless devices pay for themselves very rapidly and more churches are adopting them as an extra method of collecting donations.
---
Please send an email requesting more information on the availability of contactless devices or telephone to talk about the options available.
---
To contact your Parish Advisor
email or telephone: 01273 425797