---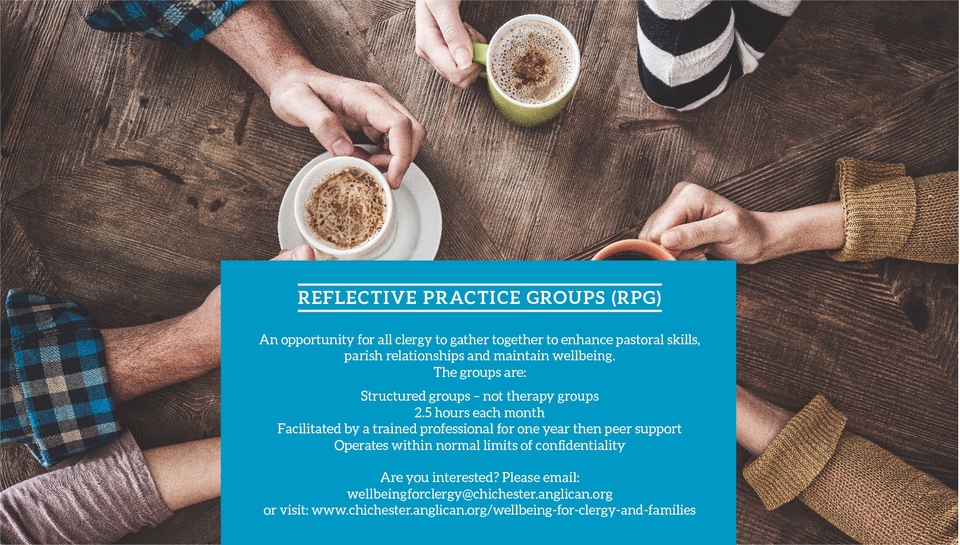 What happens in an Reflective Practice Group (RPG)?
Joining a new group can feel daunting, as members may come with very varied expectations, backgrounds and experiences, so the facilitator helps the group to get established. First, a group contract and confidentiality agreement are established. Then, each meeting provides the opportunity for members to 'check in' and share any news or issues they would like to raise, before individual members are invited to talk about whatever aspect of their ministry they wish.
What is an RPG for?
Issues people tend to talk about are practical parish problems; celebrating successful practice; managing challenging situations or individuals; and sharing ideas about diocesan initiatives; as well as how to maintain personal resilience and wellbeing. Other members may then contribute their own thoughts and experiences and reflect on the relevance to their own situations.
How long does an RPG last?
RPG's meet for 2 hours monthly in non- church premises at the same time for 18 months together (we don't meet in December and August) with a trained facilitator who works independently.
---
Confidentiality and Evaluation
To support effective administration and evaluation, the names and attendance of group members will be recorded on a confidential database and participants will be asked to complete a standardised assessment form at the start, mid-point and end of their RPG membership. This will help them consider what they hope to gain from and contribute to the group; monitor how this might change over time; and review their experience overall.
This RPG-related data will be accessed only by Laura Steven, Head of Wellbeing for Clergy and their families, and the relevant group facilitator.It will be deleted subsequently, in accordance with GDPR requirements.
---
Feedback from previous DOC RPG members:
'I am so grateful for this group and do hope that it can be made available to others, and that they will take up the offer! Thank you so much for making it happen - and to those who have allocated funding for it!'
'Our facilitator is an excellent co-ordinator – very impressed with her! This is a very new experience for clergy although (in my humble opinion) essential… certainly worth continuing with.'
'I've found the Group very positive, it is a valuable thing to offer clergy, thank you.'
'Time set aside, excellent facilitation, sharing good practice and different ways of approaching ministry, sharing in depth, being listened to and really valued and doing the same for others, building mutual respect, journeying together.'
'Boundary setting, looking at anger, developing readiness to think before taking on extra commitments, opportunity to reflect on a very difficult period in ministry, developing better sense of self care and work- life balance.'
'Meeting other clergy in the diocese, sharing practice especially around taking funerals, space unload, complete confidentiality, addressing deepest fears, failures and frustrations, sharing challenges and finding new strengths and resolve.'
---